Thursday, April 18, 2019 - 6:00pm
Reading How it is, Selected Poems is akin to taking a long, meditative walk through the lush inner landscape of a man who sees and senses all too much. Vivid, evocative, and varied, the individual poems cross timelines and geographic divides to form a compelling, collective whole.
Saints and Sinners is sentimental and sarcastic, serious and silly, with beautiful full- color photography and art. Poetry reflecting a sense of place with focuses on environmental issues, feminist issues, experiences of faith and observations on aging.
About the Authors:
Neil Shepard grew up in Leominster, Massachusetts, where a billboard on the highway advertised it as the Pioneer Plastic City. Shepard escaped that toxic environment and moved to Vermont, where he earned his B.A at the University of Vermont. Later, he earned his M.A. in Creative Writing at Colorado State University, and his Ph.D. at Ohio University. His most recent books of poetry are an offbeat chapbook, Vermont Exit Ramps (Big Table Publishing, 2012), and a full-length collection, (T)ravel/Un(t)ravel (Mid-List Press, 2011); his three earlier collections are This Far from the Source (2006), I'm Here Because I Lost My Way (1998), and Scavenging the Country for a Heartbeat (1993), all from Mid-List. His poems have appeared in numerous literary magazines, including Boulevard, Harvard Review, New England Review, Paris Review, and Southern Review. Shepard is Senior Editor of Green Mountains Review and a founding member of the poetry-jazz ensemble PoJazz. He also founded the Writers Program at the Vermont Studio Center and directed it for eight years. Retired from a long-time teaching career in the BFA writing program at Johnson State College in Vermont, he now teaches in the low-residency MFA Writing Program at Wilkes University and lives in New York City and Vermont.
Sally Nelson Kruse, a native of historic Las Vegas, New Mexico, has painted and photographed her state for over 40 years. Her passion is made evident by her depictions of the obscure and unusual qualities of New Mexico's rural communities and landscapes.
Melanie Lamb Faithful has lived in Santa Fe, New Mexico, for many years, but her heritage is Appalachian. Her poetry has been published in journals, periodicals, and a book anthology. Exphrastic poetry (poetic interpretation and exploration of the visual image) is her specialty, with an affinity for feminist discover.

$25.00
ISBN: 9781912561001
Availability: Available to Ship - Est. Delivery in 8-13 Business Days
Published: Salmon Publishing Ltd. - September 25th, 2018
---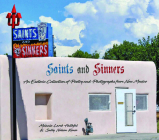 $19.95
ISBN: 9781889921563
Availability: Available to Ship - Est. Delivery in 8-13 Business Days
Published: Western Edge Press - March 2019
---