Wednesday, March 20, 2013 - 6:00pm
Vegetable Literacy
by: Deborah Madison
Special guest James McGrath Morris will introduce and conduct a short interview with Deborah Madison.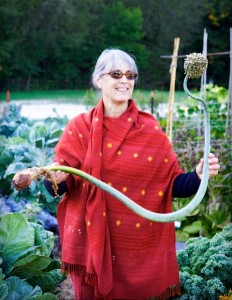 Families are about similarities and relationships, and it's as true with plants as it is with our own human families.
Vegetable Literacy
is about twelve plant families, their names, their quirks and histories, their relationships to one another, and some 300 recipes for how to cook and use them—simply and often intuitively.
Deborah Madison
grew up first on a dairy farm in upstate New York, and then in a walnut orchard in Davis, California. In 1979 she opened Greens Restaurant, which was one of the earliest Bay Area restaurants to have a farm-driven menu. After leaving Greens she cooked for the director of the American Academy in Rome, then later opened Café Escalera in Santa Fe with Chez Panisse chef, David Tanis. Madison's writing interests lay with issues of biodiversity, seasonal and local eating, farmers markets, small and mid-scale farming, farmers and ranchers, gardens and gardeners. She's also been involved with Slow Food, served on the board of the Seed Savers Exchange, and was co-director of the Monte del Sol Edible Kitchen Garden. Prior to her latest book, Vegetable Literacy, she has written many cookbooks including: "Seasonal Fruit Desserts"; "Vegetable Soups from Deborah Madison's Kitchen"; "Vegetarian Suppers from Deborah Madison's Kitchen".

$40.00
ISBN: 9781607741916
Availability: Available to Ship - Est. Delivery in 8-13 Business Days
Published: Ten Speed Press - March 12th, 2013
---