Submitted by
collectedworks
on Tue, 11/12/2013 - 10:48am
Interviewee: Eleni Sikelianos
Interviewer: Christopher J. Johnson
CJJ: Your latest book The Loving Detail of the Living and the Dead seems to me to be a continuous cycle of poems similar to Ezra Pound's Cantos. Lines that appear in poems reappear as single lines later in the book. Themes reoccur as well as personas. It is obvious that you took time composing not only the poems as individual pieces, but also that you put a focus on the cohesiveness of the book as a whole. Tell us a little about your process in putting this book together; did you have any themes in mind from the start? Or, was this material that you yourself were startled to find in your work?
ES:  Although there is a coherence in the whole of the book, I was actually trying to resist making a single project out of these poems.  My last books have been to greater or lesser degrees project-based, and I sometimes feel that all of contemporary post-modern poetry is serial or a project, so I was siding with the individual poem as well as the collective here.  At the same time, experience imposes itself, and there were a number of things arising — death, shadows, and life, for example.
I am not against the cycle — it's an important manifestation— but I wanted to have a different temporal relationship in these poems.  I don't want to take my relationship to time for granted, and I sense at back of our obsession with poetic cycles and serials a kind of chronophobia, a fear of allowing something to be finished or whole.  I'd like to keep that gesture of extensive time while also allowing an object (the poem) to arise on its own terms within that.
CJJ: Among the reoccurring themes in your book there is one character in particular who is mentioned repeatedly by name. Charlene, in the context of the poems, often seems like someone either very young or someone very innocent or both. Is this a portrayal of your daughter and, if so, does she represent renewal in your book as the dead, death, and dying as have their place in the text as well?
ES:  Charlene is someone I knew as a child, my best friend when I was about 11, so there is definitely innocence in her character.  She appears in the poems because I began to dream about her, and in those dreams she took on a variety of roles, one of which was prophetic, but prophecy in its purest simplicity, which might mean represented in seeming opposites — shadow and light, life and death, greed and giving up of greed, sleep and day, closed rooms and open fields.
I am hard pressed to say words or characters represent one thing in my poems, because poems for me are iterations of the complexities of the world, but I think Charlene does embody some kind of pure figure — the  figure of hope, maybe.
CJJ: You are a teacher of poetry at Naropa in Boulder, CO and the University of Denver. Have you found any preconceptions or misnomers common to first-time poetry students that you must, for lack of a better term, shuck away upon their arrival at college? For instance, while working with high school students in public schools on the craft of poetry I often hear something along these lines, "I don't rework any of my writings. To rework my poetry would be the same as to betray the original motivation/emotion that I put into it."
ES: I'm fortunate to work with students who have mostly already dedicated their lives to this art form.  But I do sometimes have to convince undergraduate students that a poet is engaged in a highly skilled activity that requires training just in the way that playing basketball and practicing medicine do.  In such cases I might remind them that they wouldn't expect to step into a surgical theater with a scalpel and know what to do!
CJJ: Do you have any advice to give young writers who are thinking of going to college to further their poetic craft?
ES: Well, I think college is an important rite of passage, but it's definitely not the only (or even the) place to become a poet.  Being in a community of poets and artists and thinkers is the most valuable education you can give yourself — and that means with living people, but also with the dead: reading, looking, thinking.  Bobbie Louise Hawkins likes to say "Put yourself adjacent to the most interesting, smartest people you can find."  And, as the poet Bernadette Mayer likes to say, "Work your ass off to change the language."
CJJ: Many American readers may not know it, but your grandfather was also a poet. Angelos Sikelianos was a famous Greek Modernist poet who is often compared to W. B.Yeats in regards to his influence on twentieth century Greek poetry. The Nobel Prize winning poet George Seferis, for instance, cites him as a major influence. What should American poetry readers know about Angelos? Was having such a figure in your family history a main motivating factor in your own pursuit of poetry?
ES: He is notoriously difficult to translate, though there is a Princeton U. Press Selected, translated by Edmund Keeley and Philip Sherard.  Most moving to me is my great grandfather's vision of a utopian community, which he sought, along with my great grandmother, the theater director Eva Palmer, to enact in Delphi.  They were visionaries, not afraid to live a life dedicated to their vision, however eccentric it seemed.
These things didn't play any conscious role in my taking up the path of poetry — there have been great ruptures in my family line, so I wasn't that aware of this history growing up — but when I remember to meditate on their utopian impulses, and what they made manifest in that pursuit, I draw inspiration from it.
CJJ: A left field question; does poetry have a place in the collaborative arts such as art installation? Frank O'Hara, for instance, often worked with visual artists in a collaborative process. More recently, the poet Mei-mei Berssenbrugge has collaborated with artist Kiki Smith on a volume of poetry. Also, poetry has been appearing in unexpected places like on the New York City transit system, where one can read poems by Mary Ruefle on the walls of a subway tram. What are some ideal ways for poetry, in your mind, to break away from its more traditional boundaries? Have you ever used poetry towards a collaborative project?
ES: I am a big fan of bringing poetry out of its traditional boundaries, in all kinds of ways.  I've worked with visual artists (an installation with Peter Cole, poems for the artist Mel Chin's dictionary project, collaborative hand-painted books with two French painters, and for my book-length work The California Poem, a number of artists made work to go with the poem), musicians (including nyckelharpa player Sandra Wong and composer Philip Glass), as well as filmmaker Ed Bowes, to name a few.  For me, such cross-disciplinary work brings vibrancy to and increases the breadth of the possible conversation.
CJJ: Finally, Collected Works' continual closing question; what are you reading right now?
ES:  I am reading Mei-mei's new book, Hello, the Roses, as well as Trois femmes puissantes (Three Powerful Women) by the French novelist Marie Ndiaye, and Telling Our Way to the Sea, by my friend Aaron Hirsch, which takes on the state of our oceans by talking about various species in them.  I've been reading, for class, American Women Poets in the 20th Century, and land artist Robert Smithson's fabulous essays.  Of recent chapbooks, I really loved Simone White's Unrest from Ugly Duckling Presse.

$15.95
ISBN: 9781566893244
Availability: Backordered
Published: Coffee House Press - April 30th, 2013
---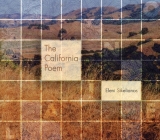 $20.00
ISBN: 9781566891622
Availability: Available to Ship - Est. Delivery in 8-13 Business Days
Published: Coffee House Press - October 1st, 2004
---

$18.00
ISBN: 9781566892193
Availability: Available to Ship - Est. Delivery in 8-13 Business Days
Published: Coffee House Press - October 1st, 2008
---